Download FREE Rinse for Windows (XP, Vista, 7) & Mac OS X
Organize & Repair your iTunes music library with the latest official Rinse version - Download your Free Trial today!
The Rinse music cleaning product is shut down and discontinued on May 31, 2014!
FREE Rinse for Windows & Mac
Download the Rinse Song Organizer
from RealNetworks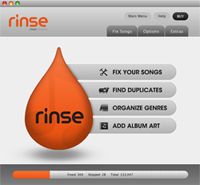 Download Free Trial of
Rinse

You are free to buy Rinse after the free trial - only $39
How can Rince help me save time?
Rinse is the smartest way to seamlessly
organize and repair
your
iTunes
music library. With Rinse you can enjoy an attractive, organized and easy to browse music collection.
Organize your iTunes® music library - combine and organize your music collection the way you want it
Fix misspelled song details - e.g. repair song names, artists, and album details
Fill in missing song details - missing artists, albums, dates, and genres are automatically added to your music collection
Removes duplicate songs - you choose which version you want to keep
Fill in album artwork - Rinse finds automatically high resolution album art
Edit MP3 tags - a powerful way to edit your mp3 tags
How Rince works?
Rinse will extract the available information from your songs (e.g. the filename or existing tags) and submit it to a special Rinse Identification Server. The Rinse server will then return the correct song information, along with an accuracy level (the confidence value).

Even if your music names have misspellings or missing info, Rinse' intelligent database technology will search and find the missing album artwork, remove song duplicates and cleans your music library.