Download RealPlayer Cloud - FREE or Premium Rebate Offer
Find out how to move, watch and share videos - Download the NEW official RealNetworks RealPlayer with FREE Cloud services
RealPlayer is now included in
FREE
RealTimes
!
RealTimes is the latest RealPlayer with integrated cloud services and much more.
Now it's very easy to store, share (privately or public) and watch videos on any device.
RealNetworks launched RealTimes on May 19, 2015.
Learn more & Download FREE RealTimes app
Sign up and get RealPlayer Cloud
Download the NEW RealPlayer Cloud
RealPlayer 17 + Cloud services
from RealNetworks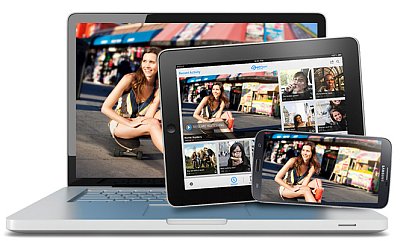 Download RealPlayer Cloud
Editor's Pick
+100 GB
storage space + advanced RealPlayer
Plus
+ All Premium features + Apps.
$9.99
$4.99 per month.
Profit Now - Save $5.00 per month.
Limited-time offer!
2 GB storage space + RealPlayer Basic + Apps.
100% FREE Sign up - Use and test everything!

Upgrade plans available up to 300 GB.
Over 600,000,000 downloads!
What is RealPlayer Cloud?
The RealPlayer Cloud - A new Breakthrough!
RealPlayer Cloud is an innovative cloud-based video-sharing solution, it
integrates RealPlayer and cloud services
, solving some of the toughest challenges involved in sharing and distributing videos online.
With RealPlayer Cloud, you no longer need to worry about converting your videos, or carrying HDMI and USB cables to connect devices to each other to watch videos. RealPlayer Cloud simply
works across all your devices
, including TVs connected with Chromecast or
Roku.
Realplayer Cloud was launched on September 24, 2013 and has already more than 500,000 users in US and Canada alone. The global roll-out of RealPlayer Cloud was recently announced on February 24, 2014.
Benefits of RealPlayer Cloud
Using
RealPlayer Cloud
you can easily:
Download the latest RealPlayer
Always use the best and newest RealPlayer. You can download RealPlayer Basic 17 with the free account or download the premium RealPlayer Plus 17 with one of the paid cloud storage plans.
MOVE your videos between any device
Easily and instantly move your videos to any device (e.g. computer, smartphone, tablet) by uploading them to the cloud.
WATCH videos on any device
RealPlayer Cloud is powered by SurePlay* to ensure that videos are automatically formatted perfectly to any device (e.g. Android smartphones, Windows Smartphones, Apple iPhones, iPads, Windows tablets,..).
WATCH videos on TV
Watch your videos or your friends' videos on your big screen TV without connecting to your computer! This is possible through Chromecast or Roku, no wires required.
SHARE Videos with your friends
RealPlayer Cloud lets you easily share your videos no matter how long they are.
You can share your videos privately or public via the social networks Facebook, Twitter, and more.
Your friends who receive your videos won't need a RealPlayer Cloud account or app to watch them!
DISCOVER hot trending videos from across the web.
Download videos locally for access anywhere.
FREE RealPlayer Cloud service
The
FREE

RealPlayer Cloud
service comes with
RealPlayer 17 Basic
and
2 GB
of storage space.
You can
earn extra free storage
space:
Get 250 MB free for uploading your first video to the cloud.
Get 250 MB free by sharing a video with a friend.
Get up to 1 GB free by downloading and installing a free RealPlayer Cloud app on up to four devices.
Get 1 GB free cloud storage space for each friend you refer and creates a RealPlayer Cloud account. Your friend also receives an extra 1 GB of free cloud space.
Paid Storage Plans for RealPlayer Cloud
If you want more storage space you can easily upgrade to a paid plan after your
FREE Sign up of RealPlayer Cloud
.
All the paid plans include the download of the advanced
RealPlayer 17 Plus
with premium features.
Plan
Cloud Storage
Price/month
Price/year
Silver
25 GB
$4.99/month
$49/year
(save 18%)
Premium (Gold)
100 GB

$9.99

$4.99/month
(

save 50% now!

)
$59.88/year
(

save 50% now!

)
Pro
300 GB
$29.99/month
$299/year
(save 17%)
FREE RealPlayer Cloud Apps
Your friends and family are able to watch your shared videos on any device or operating system,
without
downloading a RealPlayer Cloud app.
To manage RealPlayer Cloud
on your device you can download one or more of the free specific RealPlayer Cloud apps for smartphones and tablet computers, e.g. Android, iPhone, iPad, Kindle Fire and Windows app.
Sign up to RealPlayer Cloud
first
before
downloading your app and earn extra free storage space with installing the app.
*SurePlay: automatically creates and stores right-sized copies of your videos so that they are always available for instant playback on all your devices at any given time. SurePlay Storage is not counted against your storage quota.