Download the latest Apple QuickTime Player
Looking for free Apple QuickTime media player for Windows?
Apple QuickTime Player plug-in for your Web Browser
FREE Apple QuickTime Player for Windows systems
NEW QuickTime Player from Apple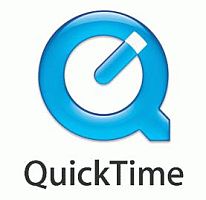 Download
FREE QuickTime Player

QuickTime is Apple's multimedia framework and can handle a lot of different multimedia formats.
Mac users get QuickTime with Mac OS X and Windows users can download the basic QuickTime player for Windows free of charge as a standalone application or bundled with iTunes.
The free
QuickTime Player
is limited to only the most basic playback operations.
You can purchase a
QuickTime Pro
license key, which unlocks additional features of the QuickTime Player for Mac or Windows. These QuickTime Pro features include:
Video Clip Editing - Cut, Copy and Paste functions, merging separate audio and video tracks, and freely placing the video tracks on a virtual canvas with the options of cropping and rotation.
Saving and exporting to any of the QuickTime supported codecs, including video presets for Apple TV, iPod & iPhone.
Downloading QuickTime Movies from the Internet to your computer system.
Quicktime Support
at Apple.
Quicktime FAQ
at Apple.
Learn more about Quicktime
at Wikipedia.