Download the latest Adobe Shockwave Player (from official Adobe site)
Looking for free Adobe Shockwave media player?
Adobe Macromedia Shockwave Player plug-in for your Web Browser
Adobe Shockwave Player for Windows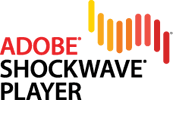 Download
Adobe Shockwave Player for Windows

Adobe's Shockwave Player browser plug-in is the internet standard for multimedia playback.
The Shockwave Player let you view interactive web content from your web browser, e.g. games, web presentations, entertainment, and animated ads.
Not sure if you already installed Shockwave Player successful? Simply
test the installation
.
For more information and support, you can visit the
Shockwave player support FAQ
.
Other popular software from Adobe
All Adobe Web Players - Adobe Flash Player, Shockwave Player & Authorware Player (for Windows, Mac OS X, Linux, Solaris and other Operating Systems)
Note: Adobe Systems acquired Macromedia in 2005.