Download the latest Adobe Media Players (from the official Adobe site)
Looking for free Adobe media players for your Web Browser?
Adobe Macromedia Players for your Web Browser
Adobe has many downloadable media players. The most popular are:
Adobe Flash Player for Windows, Mac & Linux

Download
Adobe Flash Player
Adobe Shockwave Player for Windows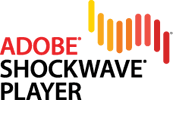 Download
Adobe Shockwave Player
You can create your own Flash Player content with Adobe Flash CS6 Professional:
Other popular software from Adobe
All Adobe Web Players - Overview of all versions of Adobe Flash Player, Shockwave Player & Authorware Player (for Windows, Mac OS X, Linux, Solaris and other Operating Systems)
Note: Adobe Systems acquired Macromedia in 2005.